Sri Lanka releases a first day cover and a postage stamp in commemoration of the International Year of Health and Care Workers -2021
30 December 2021, Colombo, Sri Lanka – Commemorating the International Year of Health and Care Workers-2021, World Health Organization-Sri Lanka in collaboration with the Ministry of Health released a postage stamp and a special first-day cover to pay tribute to the tireless and dedicated service of Sri Lankan health and care workers in fighting against COVID-19.
Hon. Minister of Health Dr. Keheliya Rambukwella, Hon. Minister of Mass Media Mr. Dullas Alahapperuma, World Health Organization Representative to Sri Lanka Dr. Alaka Singh and senior officials of Ministry of Health presided the ceremonial release of the commemorative stamp at the auditorium of Ministry of Health on 30December 2021.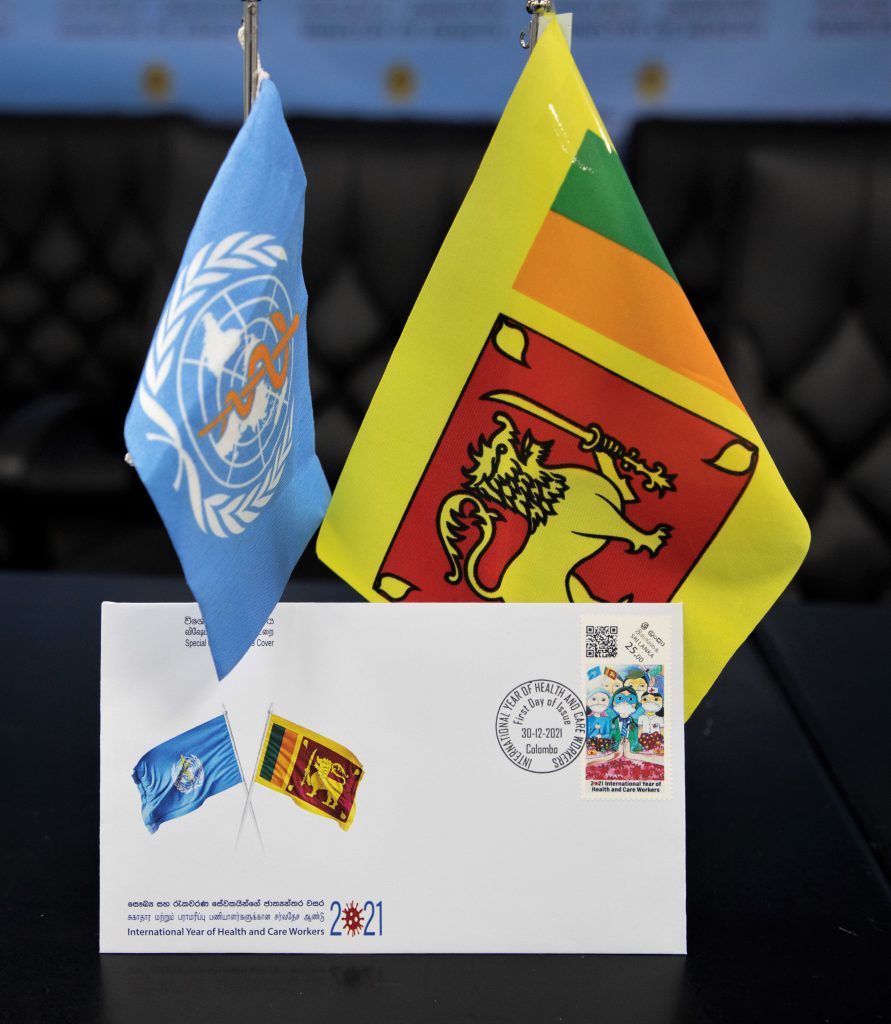 The COVID-19 pandemic has had a profound impact on the health care delivery system and its workforce and there is an urgent need to increase investment and protection for health and care workers. World Health Organization has designated the year 2021 as the International Year of Health and Care Workers in appreciation and gratitude for their invaluable service in responding to COVID-19 pandemic.
In Sri Lanka, nearly 140 000 health and care workers are employed in the state allopathic sector both in the line ministry and provincial ministry institutions and contributed immensely  to the  COVID-19 response in diverse capacities at different levels. Health personnel in armed forces, private health sector, traditional  and ayurvedic sector, and in community-based organizations  also played a significant role in controlling the  COVID-19 situation in the country.
The release of special first-day cover and the postage stamp is the inaugural event of a series of  provincial level felicitation of health and care workers to be conducted jointly by the WHO Sri Lanka and the Ministry of Health. The primary  aim of the felicitation events is to recognize and pay gratitude to health and care workers for their sacrificial service, especially in fighting against COVID-19 and to harness their support to country's efforts to build back better beyond COVID-19. The  campaign also aims to make all of us aware and recognize the service extended by the health and care workers  during the COVID-19 pandemic and beyond in reaching the universal health coverage. Further, the campaign will be instrumental in advocating the  policymakers to invest in and improve the health workforce to  achieve the  universal health coverage objectives while ensuring fair and decent working environment. 
In 2021, WHO launched a year-long global campaign under the theme of Protect. Invest. Together with the prime objective of mobilizing commitments from member states, international financing institutions, bilateral and philanthropic partners to protect and invest in health and care workers to ensure safe and decent working conditions and to protect their health including mental health. The investment will pay off generously with certainty in terms of health, employment, and economic and social opportunities and will accelerate the attainment of the Sustainable Development Goals and COVID-19 recovery.