While preparing for a show in Puducherry, Tamil rapper and songwriter Arivu jotted down some lyrics on the groundswell of opposition in Sri Lanka, and broke into a spontaneous performance on stage. The day was 14 April, the Tamil New Year, and the rapper was inspired by a video clip of a young protester participating in the first wave of protests in the crisis-hit island nation. His grandmother's stories of working on the tea plantations in Sri Lanka were on his mind as he sang to a crowd in the seaside town.
"I was speaking to friends in Sri Lanka and one important issue connected with me — the way people came together despite their differences," said 28-year-old Arivu, who has written over 70 songs both for mainstream Tamil cinema and as an independent artist.
Set to the catchy beat of the baila, which can be traced back to the Portuguese colonisation of Sri Lanka in the 16th century, Arivu's song, 'Ceylonkaar', is scheduled to release this week. It will mark the 'Tamil Remembrance Day' on the 13th anniversary of the end of the Civil War in Sri Lanka.
When The Print visited Arivu at his Chennai studio last week, he gave us a teaser of 'Ceylonkaar' and burst into song:
Poradu Poradu Ilangai
(Protest, Protest Sri Lanka)
Ini un nadum un veedam vilanga
(For your country and home to prosper)
Inavaadam madavaatham jeyikkadu
(Divisions in ethnicity and religion will not win)
Athellam sarvadigarikku uraikaathu
(This will not be understood by the ruling class)
Appo uraikkanumna enna seyyanum
(If they need to understand this what should be done?)
Nambellam onnu sendhu sandai seyyanum
(We all have to get together and protest against them)
From India to Sri Lanka and back
During the British rule, Arivu's maternal ancestors were ferried across from Tamil Nadu to work on the tea estates in Sri Lanka.
"It used to be virgin forest land back then," he said, recalling his maternal grandmother Valliammal's stories, who features in his famous song 'Enjoy Enjaami' with singer Dhee. "The Tamils worked on that land, cleared it and turned it into a huge economy. They say three Ts make up Sri Lanka: textile, tourism and tea. The tea industry was built on the backs entirely due to the hard work of the Tamil folks who went from here."
Arivu grew up listening to stories about life on the tea estate. Of landowners driving expensive cars while Dalit labourers struggled for a decent wage. "Over 10 families lived in little boxes on a tiny parcel of land that was given on a 100-year lease Look around this room," he said, pointing to his medium-sized studio. "Imagine fitting in 10 families in this space."
His grandparents were part of this community on the tea estate in Sri Lanka. "But despite being oppressed and in an alien land, the community was very talented and kept their art forms alive. They knew Silambam, they sang folk," he said.
It was the 1964 Sirima-Shastri Pact, an agreement between the Indian and the Sri Lankan governments, that determined the status and future of Valliammal and others of Indian origin in Sri Lanka. His maternal grandparents were uprooted and sent back to India.
"They all moved back to India but did not know where to go," Arivu said. "They knew the name, Salem, but did not know where the village was." Many from the community went to tea plantations in places such as Assam and Ooty in search of jobs. "My grandparents found work as labourers in Arakkonam where a railway station was being built. My grandmother worked hard and laid stones there."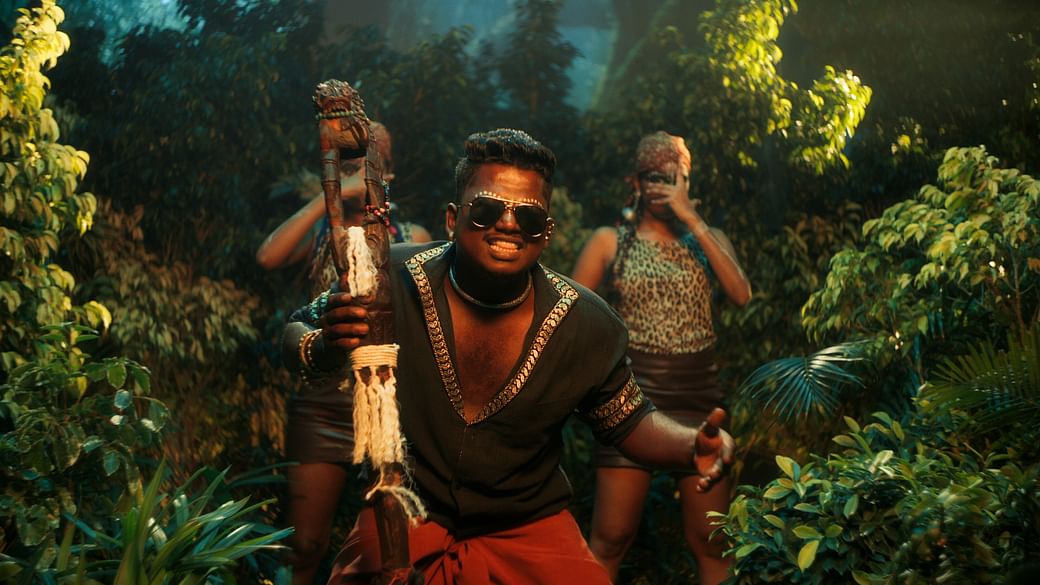 If music is a vehicle of protest and change, then Arivu is its driver. He straddles popular culture and social issues with ease and has written the lyrics for songs in superstar Rajinikanth's 2018 hit Kaala and the 2021 film Master starring actor Vijay. He is also part of the indie band 'The Casteless Collective', which is supported by Tamil director Pa. Ranjith. Many of his songs are a fearless commentary on the politics of the day and a nuanced look at the way caste plagues Indian society.
His song 'Sanda Seivom' in solidarity with the 2020 Citizenship (Amendment) Act or CAA protests garnered 11 lakh views on YouTube, while 'Enjoy Enjaami', which was mired in controversy as Arivu was not initially credited as the lyricist, has garnered over 41 crore views since its release last year. 'Enjoy Enjaami' was a tribute to Tamil plantation workers in Sri Lanka and is the story of Arivu's grandmother, Valliammal.
"Especially in a land like Sri Lanka that had witnessed a grave war, a land which holds so much pain, I saw a space for unity," he said, explaining the inspiration for his latest song, 'Poraadu Ilangai'. "When I saw working-class people come together, I felt like I needed to talk about it."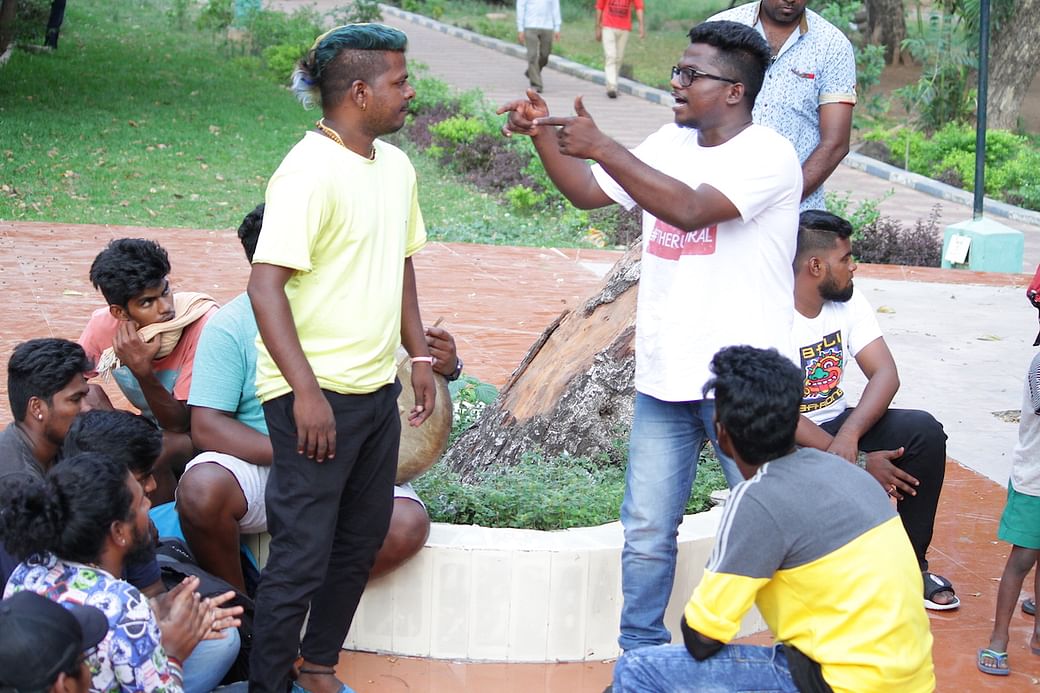 From Ambedkar to Kendrick Lamar
As a young boy, Arivu met B.R. Ambedkar for the first time through songs. The North Arcot District of Tamil Nadu, where he grew up, was often referred to as 'Ambedkar District' due to the sheer number of Ambedkarite movements it had hosted over the years. His parents, Kalainesan and Thenmozhi, who were both teachers, took him to several political meetings.
"People would sing a lot of songs and in every song, there was a political issue. They questioned everything. So, even before I read about Ambedkar, they brought him to me through music," he said. In his studio now, a statue of Ambedkar sits above a speaker.
"My family didn't purposefully teach us to be political, it was their lived experiences that made us political," he said. "Little things made us happy. My grandmother recalled a time when my grandfather brought home beef curry one day. At the time, buying beef curry was a very big deal, like buying a Mercedes-Benz car, and it was these simple pleasures that were cherished."
Inspired by the art and music of his childhood, Arivu began penning poems even as a student. Dalit Subbiah, known as the Indian 'working-class Bob Marley', Mugil Paramanandam, a government servant who sang protest songs, and his own grandmother Valliammal, who sang Oppari (the folk genre sung at funerals) provided the foundations for his art form.
"They wrote about their community's pain; they wrote without worrying about whether they will get featured on YouTube or show up as a movie song or be broadcast to the world. They didn't care about any of that. They just wanted to express to the person in front of them, how they felt," he said. This is what Arivu wants to emulate. His more modern-day inspirations are American rappers Kanye West (now known as Ye) and Kendrick Lamar.
"I too use art as a tool. The essence already exists, and I just simply set it to hip hop," he said. "While I use software, my ancestors used coconut shells, that's the only difference. I have been hugely inspired by many people to take up this art form, though I'd say, I am not nearly as experienced."
Arivu is critical of younger generations who don't help their own communities.
"If you have come up from an oppressed caste background, it's only because many people before you protested and created this space for you. It is only because of them that you have come this far. If you don't look back at your own people that is where things break down and problems occur in society," he said. "There is no point in blaming the people on top; you need to extend a helping hand to the people below you. That's why seeing that young man in the video clip from Sri Lanka was inspiring to me."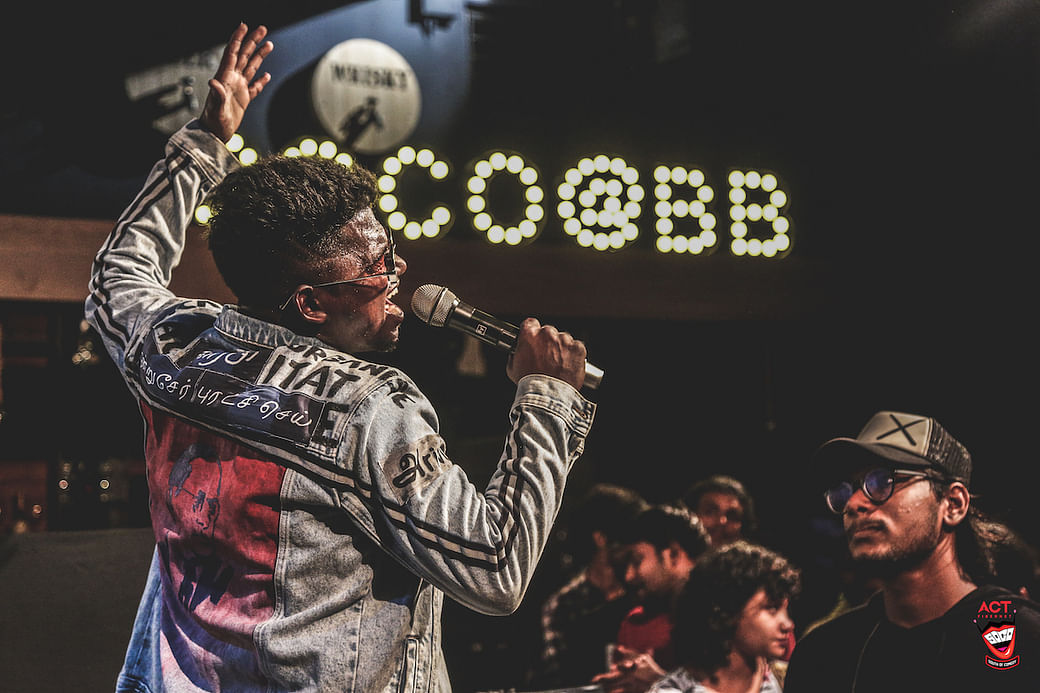 Cultural appropriation
With his music strongly inspired by the working class, Arivufeels 'art created by the working class' is often taken for granted and appropriated by the ruling class. With more and more working-class art forms making their way into mainstream Tamil cinema now, he warned against others "snatching it away" without giving due credit.
"Oppari, for instance, is an oral art form — it's like oral literature. It has been passed down over the years. Represent that, talk about it, but don't snatch it away from who it belongs to," he said.
"In my mind, I am not sitting on this chair, I am actually sitting on the ground, and through that, I am connecting with a lot of people because the ground is common to all of us in the world," he said. "In this way, I have been connected to many people, I get inspired by that. I am able to feel a sense of calm and authenticity with anyone connected to the ground."
Such connections are important to Arivu. He recalled an evening stroll with his friend Gana Balachandar, a popular artist, who sings Gana songs, a style of music from Chennai. "That evening, men and women on the streets stopped to greet Balachandar, some asking for selfies. I told him, 'Till you keep giving art to the working class, your art will be taken care of well'."