Minister Nimal Siripala de Silva has expressed his displeasure to the construction contractors for the serious delay in the construction of the new passenger terminal complex at the Katunayake Airport.
The Minister who visited the construction site recently stated that the construction companies were selected by the Government of Japan and that he would lodge a complaint with the Government of Japan regarding the serious delays in the construction work.
The Minister further said that the contracts for these constructions were signed about eight years ago but no significant progress has been made so far.
Under this project, it is planned to construct a new passenger terminal and related aircraft operating system.
The total cost estimate of this total development project is one hundred and thirteen billion rupees (113). JICA has also provided financial assistance for this purpose.
The construction work has commenced in 2019 and 2020 and according to the contract, the construction work should be in the final stages, but to a satisfactory extent, the construction work has not been completed so far, the Minister said.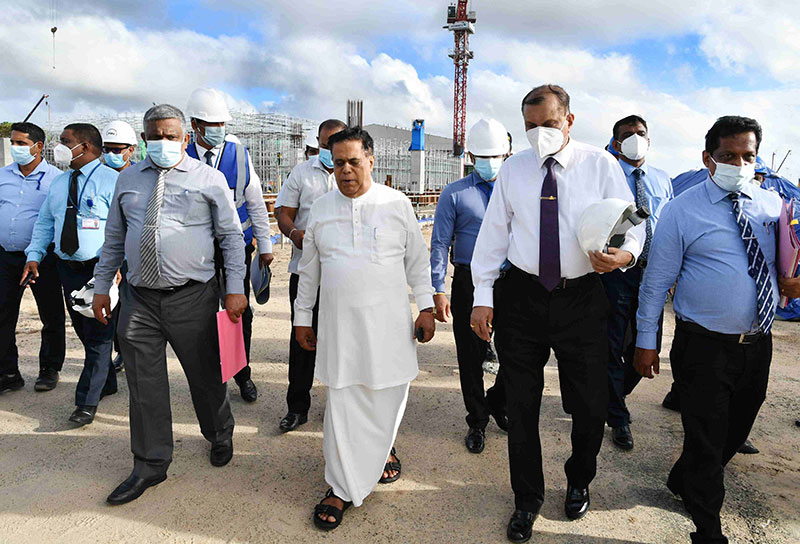 The Minister also said that although the second terminal was planned to be built in accordance with the existing international standards for the airport, it has been informed that its security system is currently being prepared to build outside the IKAO standards, contrary to the original plan.
The Minister emphasized that despite the indifference of the construction company and the fuel crisis, it was the responsibility of the contractor to conclude the contract on the agreed date.
He also instructed the Board of Directors of Airports and Aviation to conduct a proper investigation into the selection of subcontractors and the handing over of the construction contracts to unsuitable subcontractors, which has hampered the work of this development project.
The construction of a second passenger terminal and an aeronautical operating system at the Katunayake International Airport was initiated due to severe congestion and reduced space at the existing passenger terminal, the Minister said.
The Minister also said that the construction of these second passenger terminals at the airport has commenced to provide maximum facilities and efficient service to tourists visiting the country.
K.D.S. Ruwanchandra, Secretary to the Ministry, Maj. Gen. G.A. Chandrasiri, Chairman, Airport and Aviation Company, representatives of its Board of Directors and officials of Japanese Construction Companies were also present on the occasion.