There were many media reports (not contradicted by any official source) that stated that the Sri Lanka's Central Bank Governor Dr. Nandalal Weerasinghe and Treasury Secretary Mahinda Siriwardena had announced "bankruptcy" because the Government was unable to pay a loan installment of USD 78 million to a creditor.
However, information is now surfacing that even while the "Default" was being announced by the above duo, the Central Bank and Ministry of Finance were working on a series of sources to obtain "bridging finance" and other inflows of a massive USD 10,700 mn.
The forex inflows in the "pipeline" for the year 2022 was as follows, (as per information at the end March 2022):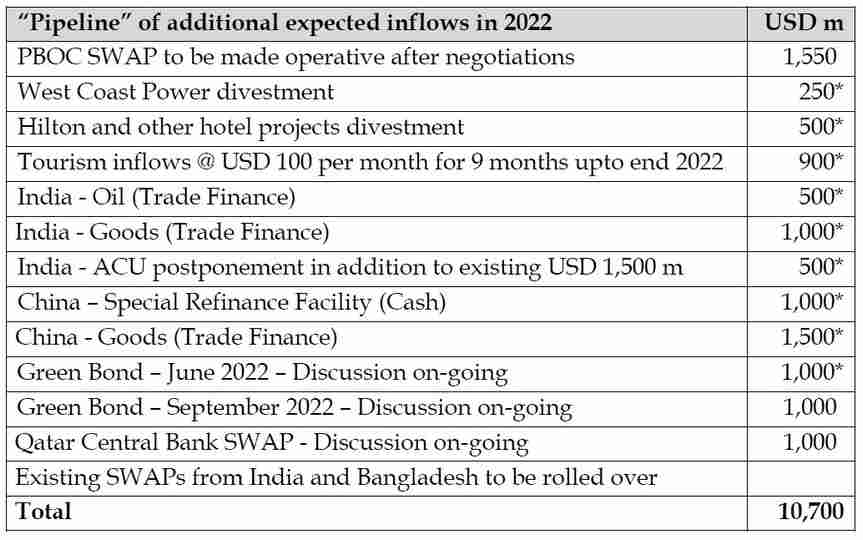 In addition, the CBSL was also expecting to absorb around USD 300 million per month through the "mandatory" surrender of the 25% of net export procedures being collected by the CBSL through the commercial banks. That would have meant that a further USD 2,700 million would have been available over the 9 months ending December 2022.
Unfortunately, the sudden "default" announcement completely disrupted all the above expected inflows, with the possible exception of the roll-over of the SWAPs that had been previously negotiated, and the surrender proceeds from the commercial banks. Of the above pipeline of items, the items marked with (*) totaling around USD 7,150 million were highly likely to materialize over the short term, and hence the decision to default payment was inexplicable and utterly reckless. That irresponsible and arguably illegal decision plunged Sri Lanka into a serious chasm of economic and financial isolation as a "bankrupt" nation, with severely damaging repercussions that will haunt the nation for many years to come.