"We attended one of the largest gatherings of atheists and freethinkers in the world, Celebrating Dissent. An event with a very special tone – the aggression against Salman Rushdie on everyone's minds. More than ever, these atheists wanted to show that they are more and more numerous and determined to win the battle against obscurantism." – Charlie Hebdo, 24 August 2022
Celebrating Dissent 2022, held in Cologne, Germany on August 20-21 2022, to coincide with International Apostasy Day, was an extraordinary event with over 50 exceptional speakers from 30 countries worldwide.
The two-day event is the largest gathering of ex-Muslim and freethought organizations and activists celebrating dissent and freedom. It was organized by the Council of Ex-Muslims of Britain and Freethought Lebanon.
Celebrating Dissent 2022 included speeches, discussions, poetry, theatre, film, music and art and a march through Cologne City Centre in support of the courageous Salman Rushdie.
At the opening of the conference, Sami Abdallah, President of Freethought Lebanon, said: "we stand for ideas and words while they stand for daggers and guns; we stand for humour and satire while they stand for state sponsored incitement to murder… We are the future, and they are the past."
Also at the opening, Maryam Namazie, Spokesperson of the Council of Ex-Muslims of Britain, called the ex-Muslim movement the "new civil rights movement of our times" and said: "[Salman Rushdie] is not the first nor will he be the last. The best of our best, cut down by the likes of the Iranian regime (directly responsible for Rushdie's attack), by fundamentalists of all stripes and by, of course, inhuman ideologies… As Chilean poet Pablo Neruda said, however, 'You can cut all the flowers but you cannot stop the Spring'.
Receiving a standing ovation, Scientist Richard Dawkins was interviewed by Maryam Namazie and awarded the Freethought Champions Award. He described the ex-Muslim movement as "one of the most important political movements of our time".
Iranian atheist Soheil Arabi who was on death row for blasphemy and is currently in internal exile after 8 years in prison in Iran was awarded the Freethought Champions Award. In his acceptance video, he said: "I have no regrets that I have been in prison for 8 years, despite the fact that I have lost my health because I think we have paved the way collectively together for liberation. I am a drop in this sea and glad to be part of the society of enlightenment. Algerian secularist Marieme Helie Lucas also won the Freethought Champions Award.
MCed by Fariborz Pooya and Veedu Vidz, discussions during the two days included topics such as: Atheists and the Human Right to Protection, Asylum and Apostasy Workshop for ex-Muslims asylum seekers, Hijab, Bodily Autonomy and Women's Rights, Blasphemy, Islamophobia and Free Expression, On Gods and Religious Morality, Terror, Trauma and Survival, The Ex-Muslim Movement, Identity Politics, Racism and Fundamentalism, and Creativity in Challenging Fundamentalism and Defending Secularism.
Celebrating Dissent 2022 adopted resolutions in defence of Salman Rushdie, for an end to Germany's Code 166, an International Day of Secularism or Laïcité and a Declaration on the Celebration of Dissent.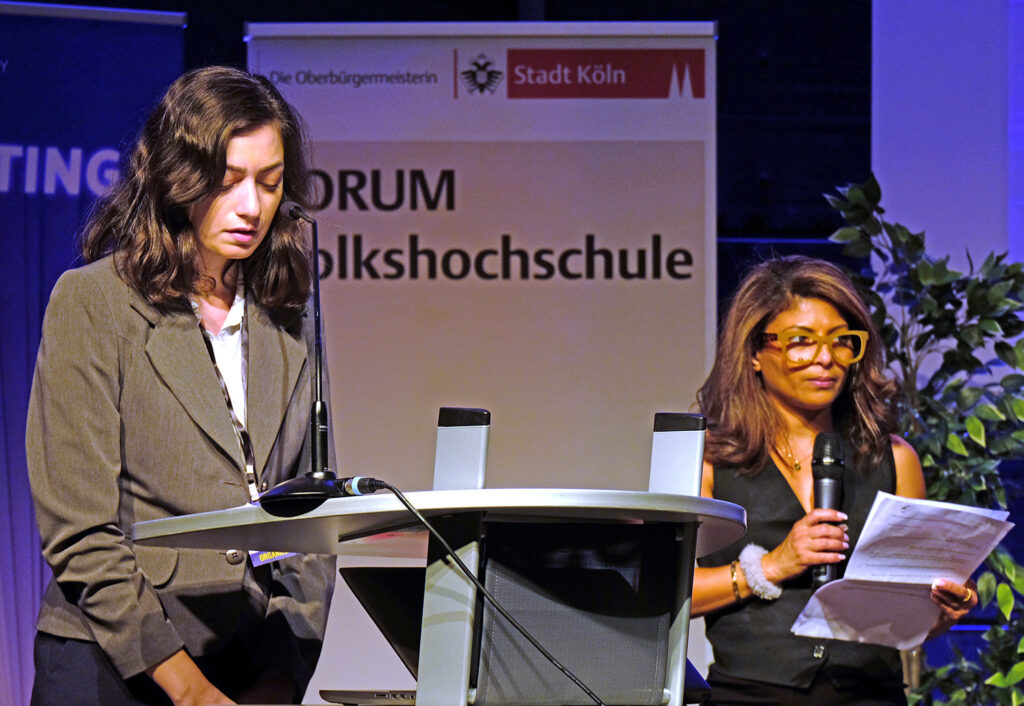 Media coverage included extensive reporting by Charlie Hebdo. Some coverage:
Cologne : Les mécréants célèbrent Salman Rushdie et préparent l'avenir, Charlie Hebdo, August 24, 2022
Maryam Namazie : « Les islamistes ont peur de nous », Charlie Hebdo, August 24, 2022
Portraits d'Athées : « Pour vivre libre, j'ai dû fuir mon pays », Charlie Hebdo, August 24, 2022
Darum haben sie den Islam verlassen, Celebrating Dissent 2022 in Köln, Bild, August 22, 2022
"Celebrating Dissent 2022" – Ex-Muslims report: That's why they left Islam, Detail Zero, August 22, 2022