The supplier who tendered the lowest bid for coal supply in compliance with the government's procurement policy has informed that it will not supply coal stocks to Sri Lanka until the allegations levelled against it are legally cleared.
The supplier has informed the matter during the discussion held between its representatives and the officials of the Ceylon Coal Company two days ago (09), revealed Energy Minister Kanchana Wijesekara.
The situation has led to discussing alternate proposals for the procurement of coal to be implemented until the legal matter is solved, Wijesekaara said a social media note.
The tender for the purchase of 4.5 million tonnes of coal was awarded to the lowest bidder, Blacksand Commodities, a company in Dubai, on August 25, 2022 and the deal was accused of being corrupt by a number of parties, whilst several others had taken legal action against the deal, driving the procurement of coal into a severe crisis.
The existing coal stocks in Sri Lanka suffice for until October 20, and the occurrence of a deep power crisis due to the shut down of the Norochcholai Power Plant may be inevitable, can coal not be procured before then.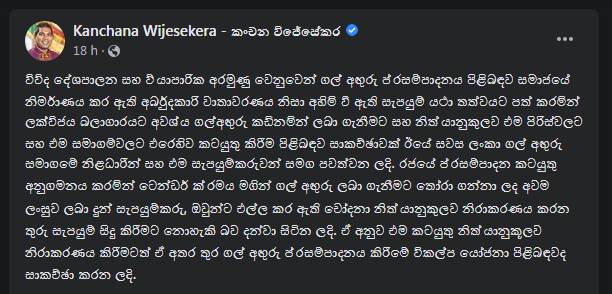 MIAP