The people need not hold any doubt whether the Janatha Vimukthi Peramuna (JVP) is hurt when protesters are taken into custody, for the pain is only fair as the innocent is arrested and the corrupt is not, said Leader of the Janatha Vimukthi Peramuna (JVP) and the National People's Power (NPP), MP Anura Kumara Dissanayake, responding to reporters' queries at a press conference held at the Party Head Office yesterday (25).
As questioned whether the Party was hurt only when their members were arrested in journalists' observance to the JVP Leader's 'swift and impulsive' visit to the Police, Dissanayake emphasised that it was the JVP that took the first step out in the open when the Galleface protesters were brutally assaulted four months ago, adding that they, as a party, feel an equal pain over the suffering of the youth of Sri Lanka.
"We were the first to intervene when a mob attack was launched at Galleface. Remember, our feelings were impulsive and fast greater than this. When young people were arrested, we went to prisons. We held large protests against assaults on young people. We have an equal pain whenever a young person, men and women alike, is unjustly attacked, or wherever someone in this country is assaulted. We have an equal anger, it will be valid for you tomorrow too. If you are assaulted illegally and unjustly tomorrow, we will share that pain with you. We feel a part of your anger," the JVP Leader said.
He also told the reporters that the people need not hold any doubt whether the JVP feels pain when their members are taken into custody, referring to the arrest of Eranga Gunasekara, the National Organiser of the Socialist Youth Union (SYU) who is also a member of the Party, for pain is only fair when the innocent is arrested and the corrupt is not.
"None of these people should be in remand custody for even a day. Murderers hold ministerial positions. Criminals hold ministerial positions. Prasanna Ranatunga, who was fined by the Court for four years, is a minister. None of these young people should stay behind bars for even an hour. They are not people who stole public property. There is anger and pain when people who really love this country and the people of this country are sent to jail, while the people who are supposed to be inside are holding ministerial positions in Parliament," he added.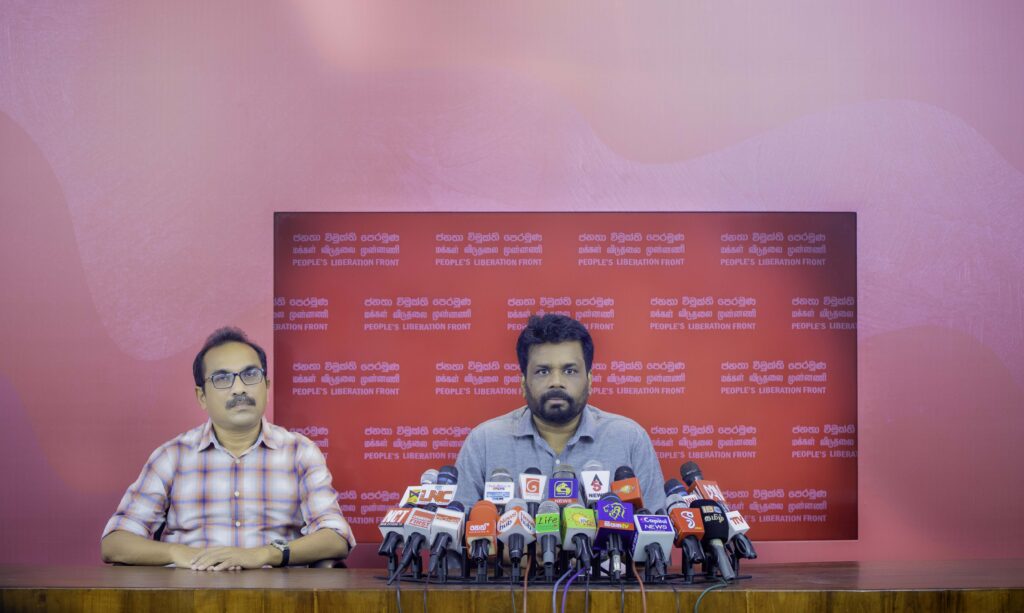 MIAP