By Champika Fernando
Following allegations that some player managers had "a field day" during the Lanka Premier League (LPL) player draft, the Sports Ministry is finally drafting a regulatory framework to register agents.
This means National Sports Associations (NSAs) listed with the Ministry of Sports, including Sri Lanka Cricket (SLC), must introduce an accreditation and registration system for all player managers, conduct background checks and impose the same code of conduct, anti-corruption and anti-doping conformity on them as players.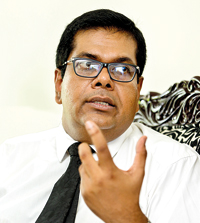 Attorney-at-Law Panduka Keerthinanda
There have been calls for regulation in the past, with players like Kumar Sangakkara, one of the first to enlist a manager, advocating for an accreditation and registration system for agents. Increased commercialisation and allegations of player managers influence on matters other than commercial aspects are now forcing the Ministry to bring them under a framework.
At the request of Roshan Mahanama–who recently resigned from the Technical Advisory Committee (TAC) appointed by the Sports Minister to advise him on all cricket-related matters–lawyer Panduka Keerthinanda has drafted regulations that require all NSAs to bring player agents under a binding agreement. They will be covered by the Sports Act No 25 of 1973.
Keerthinanda, a sports law expert, was also instrumental in drafting the anti-doping law and the anti-corruption law, which made all sports-related corruption punishable offences in a court of law.
"This is beginning to be a mafia," Keerthinanda said, in an interview with the Sunday Times. "The so-called player agents are manipulating the game, manipulating players, manipulating selections and are acting as trade unionists."
"The players can have their own managers but if the integrity of the game they play is going to suffer, then we need to act," he said. "This is why we need to regulate them, bind them under the existing laws in the country and bind them with the Olympic Charter, ICC's Code of Ethics and etc."
Once in place, managers or agents, whoever they are called, will be subjected to code of conduct, code of ethics, conflict of interest clauses, the rules and regulations of the respective sports body, sports laws and national regulations as well as laws of their respective international sports bodies. FIFA, the world body for football, has an accreditation system for player managers that help carry out background checks. In 2015, the Board of Control for Cricket in India introduced a code of conduct for managers and warned its players not to deal with anyone not accredited with the BCCI. The Pakistan Cricket Board and Cricket Australia have their own codes of conduct and registration process for managers.
"There's a very bad public perception about the managers," Keerthinanda averred. "This is because of the secretive way in which they have operated in the absence of proper guidelines or a code of conduct. This is why we need to bring them under abiding agreement."
"I had a discussion with Mahanama, the former Test cricketer and former ICC match referee, and he invited me to draft the regulations for the sports agents. I have done a draft and presented it to him to take the next course of actions," he said.
"When the regulations are in effect, the NSAs should make their own regulations to sign them up," he elaborated. "This will make these agents responsible for looking after the interest of the player and also protect the name of the player without tarnishing their name. The agents will also be subject to anti-corruption law, anti-doping law and all statutory laws in the country and their respective international bodies".
Keerthinanda says some athletes are paying the price of wrong association. "There are certain agents I know who have recommended supplements for their clients and these guys are paying for it with their careers," he revealed. "The innocent player gets caught and banned but the manager gets away scot-free. These regulations will make the player agents responsible for the action of the players."
Importantly, these regulations will cover Act No 25 of 1973. "There should be a code of conduct, a code of ethics and there can't be any conflict of interest," he reiterated. "Today the agents have become more powerful than the players and in some cases, they earned more than the players who put in the hard yards. The intention here is to help the sportsmen and women to stop the exploitation by certain individuals."
Keerthinanda says this is not solely his or Mahanama's opinion but that of many stakeholders pushing for sports development. Player managers were unheard of in Sri Lanka during the 90s but when Charlie Austin, a Colombo-based Englishman, signed up Kumar Sangakkara and Mahela Jayawardena as his clients, it created a new profession in the island.
Austin ventured into the industry after realizing it had huge potential. He started with Mahela Jayawardena, who needed assistance with his off-field affairs, but soon built an empire with a majority of high profile cricketers seeking his professional support in career advancement.
The areas of focus of a manager are contract negotiation, career planning, sponsorships and endorsements, lifestyle and financial services, and investments. Contrary to popular belief, agents do not charge a fee from Sri Lanka Cricket (SLC) contracts, match fees or any other payments that players receive directly or indirectly from their employer. Their main income comes from private leagues (i.e. IPL, LPL, PSL, BPL and BBL), sponsorship or equipment deals.
"As I said before, we need to have player managers in this day and age," Keerthinanda said. "What is required is to bring them under a proper professional framework to safeguard the interest of the athletes."