By Rhea Mogul and Manveena Suri, CNN
CNN: With people dancing on the streets and setting off firecrackers, the jubilant scenes wouldn't have been out of place in an Indian movie.
In fact, they were the real-life celebrations of thousands of cinema fans in South India as they welcomed the latest film release by one of the country's biggest superstars.
"Jailer," a Tamil-language action thriller by celebrated actor Rajinikanth, has taken the region by storm since hitting cinemas Thursday and is already expected to set box office records.
The film is the first in two years to feature the actor, who enjoys a demigod-like status among his fans, and so great has the anticipation been that some companies have given their staff a day off to watch it.
The Kerala-based education company Redbooks Abroad gifted its staff free tickets to the first showing, saying in a memo seen by CNN that it was a "day to relax, rejoice, and immerse yourselves in the magic of the silverscreen."
"We hope that this day off and movie experience will bring joy, relaxation, and renewed energy to you all. Let us cherish this moment and create memories together," it said in the memo.
Another company, Le Hive, based in the southern state of Tamil Nadu, said they were giving staff half a day off to "avoid sudden sick leaves."
The companies' actions are just one aspect of the feverish expectations surrounding the release, which local news channels have spared no detail in covering, running live blogs, interviewing fans and filming scenes outside theaters.
The film collected about $5 million at the box office on Thursday, based on early estimates, making it the highest opening for a Tamil-language film in 2023 so far, according to local reports.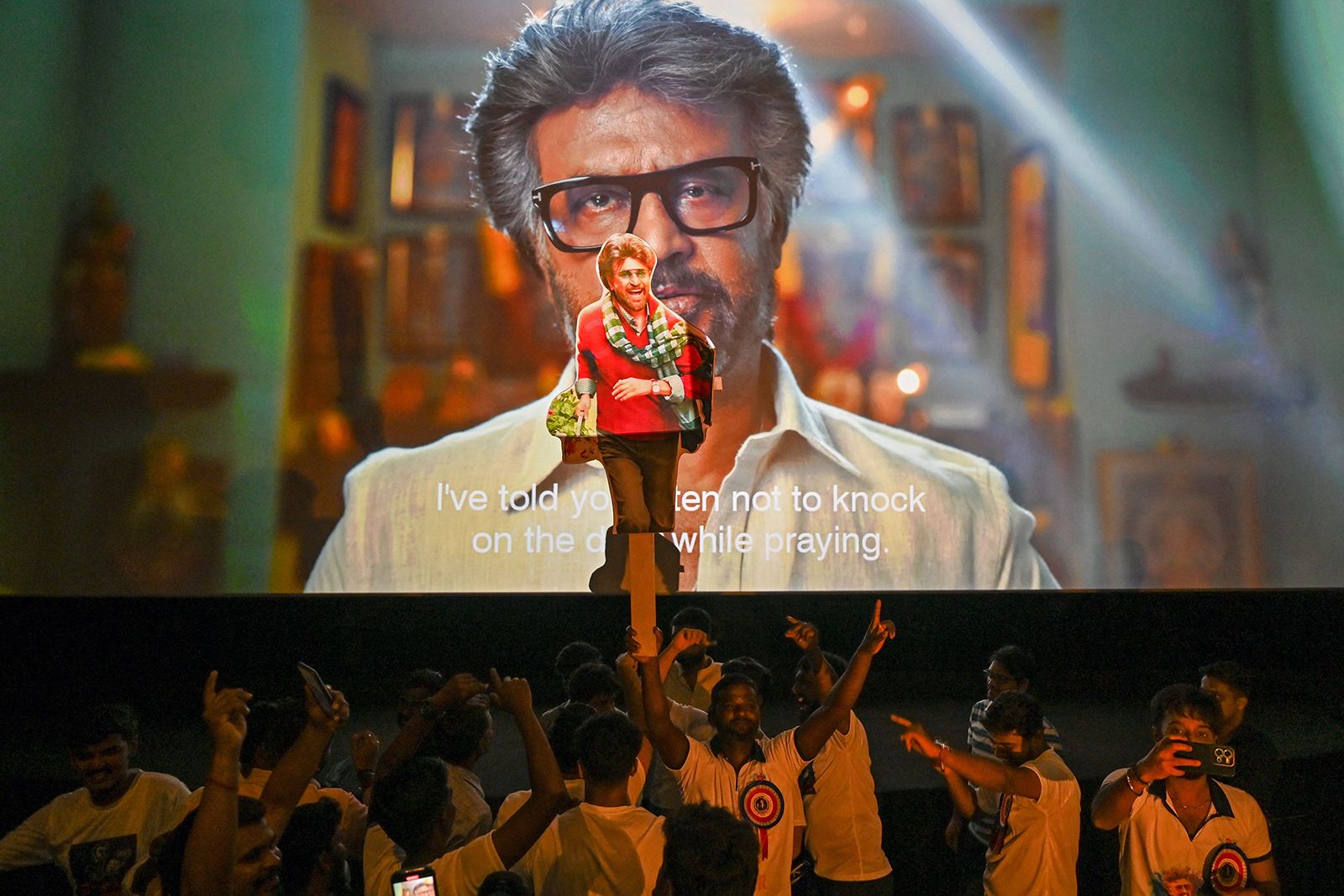 Punit Paranjpe/AFP/Getty Images
Fans dance during the screening of Indian actor Rajinikanth's new Tamil-language movie 'Jailer' on the first day of its release in Mumbai on August 10.
A cult-like following
Rajinikanth, 72, who has starred in more than 160 movies, is near synonymous with South Indian cinema.
Known for elaborate action sequences and unique dance moves, he has the sort of box office appeal enjoyed by Tom Cruise in the West and is thought to be one of Asia's highest paid actors.
Born Shivaji Rao Gaekwad in the southern city of Bengaluru in 1950, Rajinikanth made his debut 25 years later in the movie "Apoorva Raagangal," which became a commercial success.
The level of adoration among his fans has often been likened to that of a religious figure. Some of his fans have been known to celebrate his new releases by pouring milk on cardboard images of the actor, an act of veneration usually reserved for Hindu deities.
Similar scenes of jubilation met his 2016 film "Kabali," in which he donned stylish three-piece suits and John Lennon sunglasses to play a wrongfully convicted gangster recently released from jail.
Its release day became an unofficial public holiday for many with several companies in the cities of Bengaluru and Chennai giving their employees a day off to watch the film.
Rajinikanth is also a recipient of the Padma Bhushan and the Padma Vibhushan, two of India's highest civilian awards, for his contributions to the arts.
From Bollywood, to Tollywood and Kollywood
While India's multibillion-dollar film industry may be most known abroad for its Hindi-language "Bollywood" productions, nearly half of the country's 1.4 billion people don't count Hindi as their primary language.
Within the country the "Tollywood" (Telugu language) and "Kollywood" (Tamil language) sectors of South India enjoy similar popularity to Bollywood.
Outside Bollywood, earnings from the South Indian media and entertainment industry have nearly doubled year on year and in 2022 contributed an estimated 52% to all of India's film revenues, according to a report this year by the Confederation of Indian Industry.
One of the biggest South Indian hits last year, "RRR," made history by scooping its first Oscar for the best original song, "Naatu Naatu."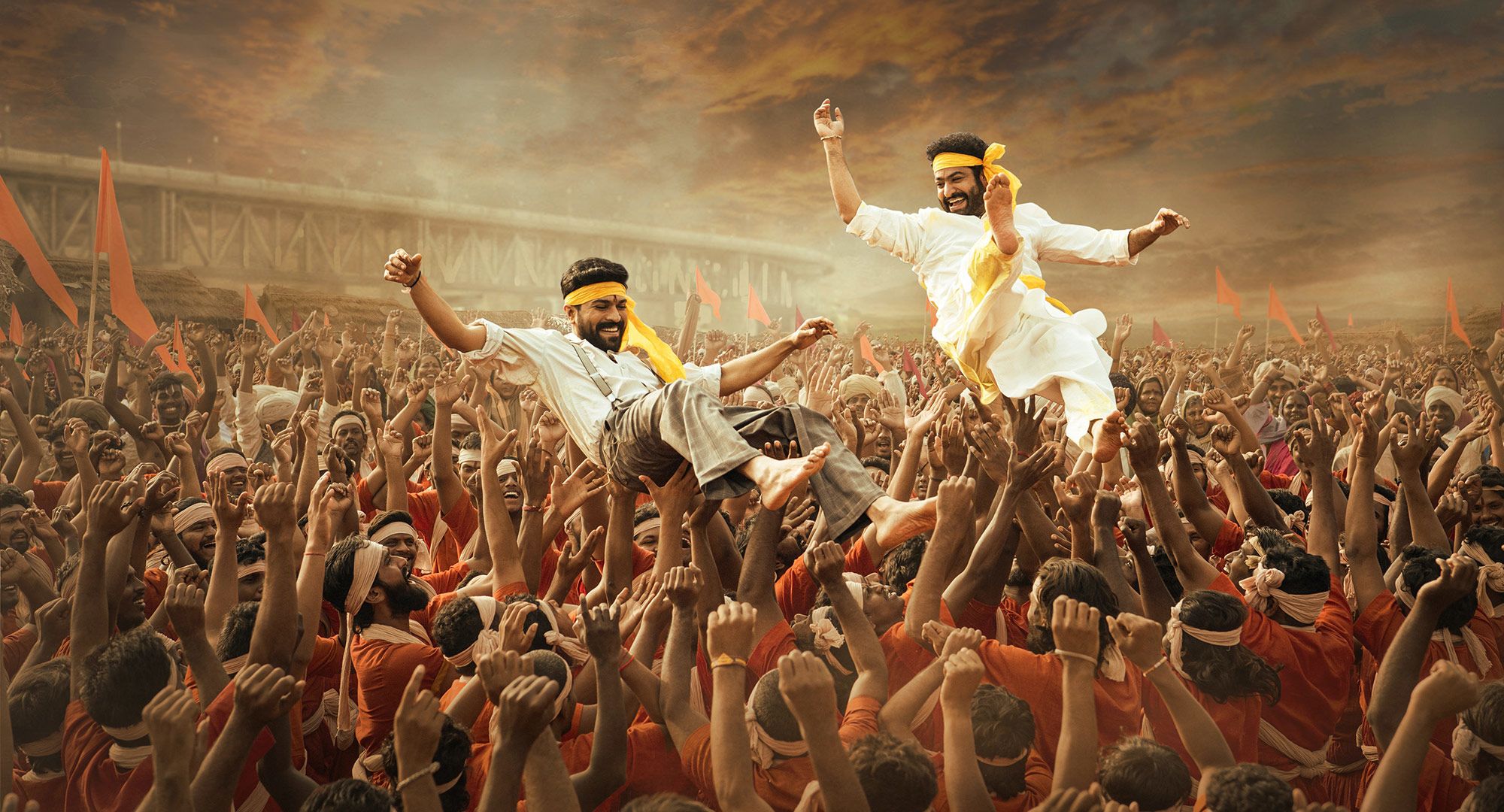 This Indian film is nominated for an Oscar. Hear how it's already made history
Praised for its buoyant choreography and catchy tune, the song also won a Golden Globe award and has been held up by some observers as an example of India's growing soft power.
Accepting the Oscar this year, composer M.M. Keeravani said: "I grew up listening to The Carpenters and now here I am with the Oscars."
He went on to sing his speech to the tune of "Top of the World" by The Carpenters.
Source: CNN