LNW have earlier explained about how SLTDA and its Chairperson Kimarli Fernando, who has been ordered to appear in person before the next court hearing over contempt of court, have misused public funds.
Meanwhile, we have received sufficient documentation evidence to establish that the Sri Lanka Tourism Development Authority, which Kimarli thinks is her own, has paid millions of public money to private lawyers.
We have no concern or argument on the amounts of payments made to Kimali's Private lawyers including PC Romesh de Silva who represented SLTDA. It's their professional service charge they charged for such a difficult case. Our premise is how Kimarli is spending public money despite the Attorney General's advice. According to the law, this is a collective decision not only of Kimarli but also of the Board of Directors of the SLTDA.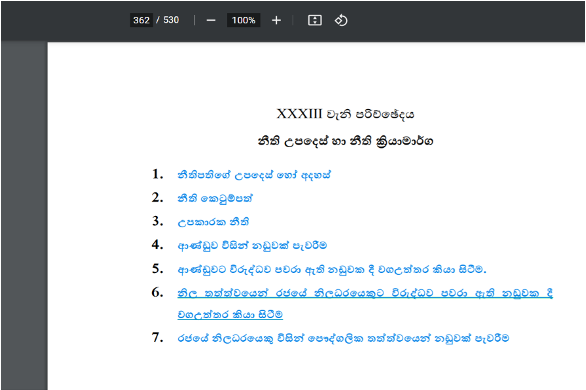 The Establishments Code contains the provisions relating to accountability in a case filed against a public servant of official status under Chapter XXXIII – 'Legal Assistance and Procedure'.
Its Article 6.1 clearly states that the Attorney General should be consulted immediately in the case of an official case filed against a public official who is an official head of the institution. In that case, either the Attorney General will accept the answer to the case or the case will be heard and answered. Apart from that, there is no provision in the Establishments Code for arbitrary hiring of private lawyers to represent their institutions and paying legal fees spending public funds.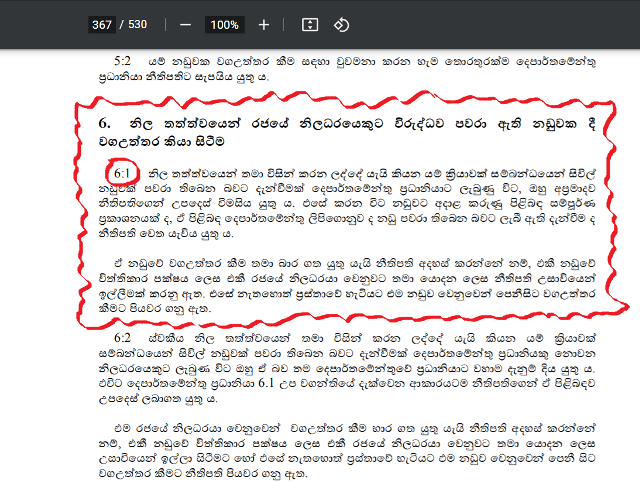 Despite this, SLTDA has sought the assistance of private lawyers on several occasions in Supreme Court Case No. 314/2020 against Kimali Fernando and the SLTDA. As well illustrated in its court proceedings, lawyers representing SLTDA on 19.02.2021 seek permission before Supreme Court Judge, PC Yasantha Kodagoda to file limited objections at the next hearing. However, those limited objections have not been filed on the next date ie; 19.03.2021, and Romesh de Silva, PC, on the instructions of Attorney-at-Law Sanath Wijewardene, appeared before the court on 25.03.2021. On that day, they again sought permission to file limited objections.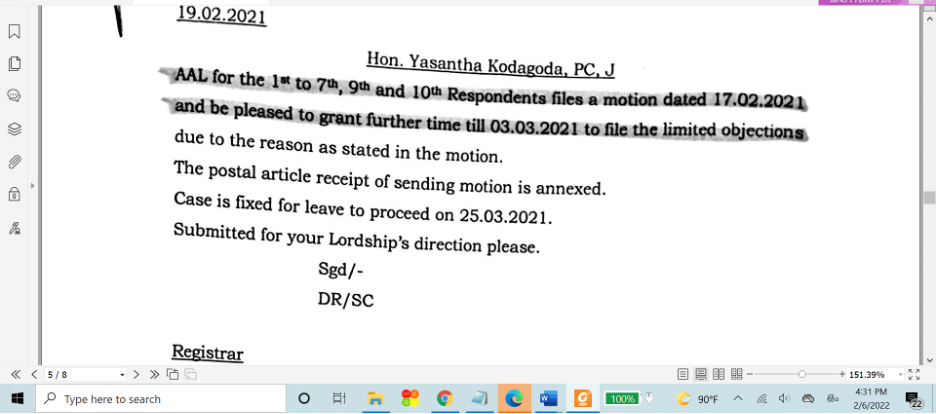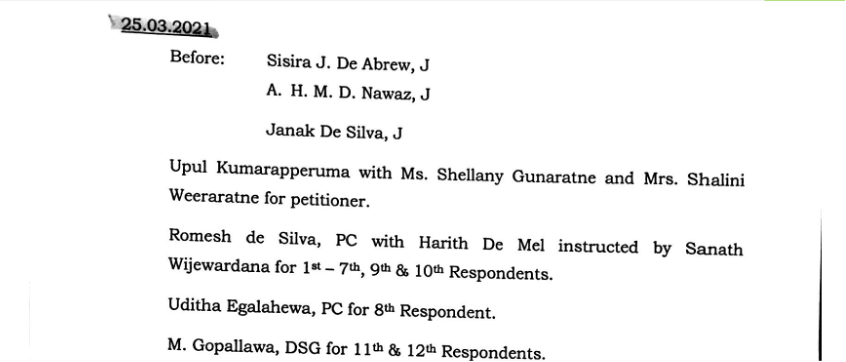 Here below is the invoice sent by Sanath Wijewardene to SLTDA on behalf of his The following is the invoice sent to SLTDA on 20.02.2021 by Adviser Sanath Wijewardena on behalf of his legal team. The invoice value is Rs. 2.525 million.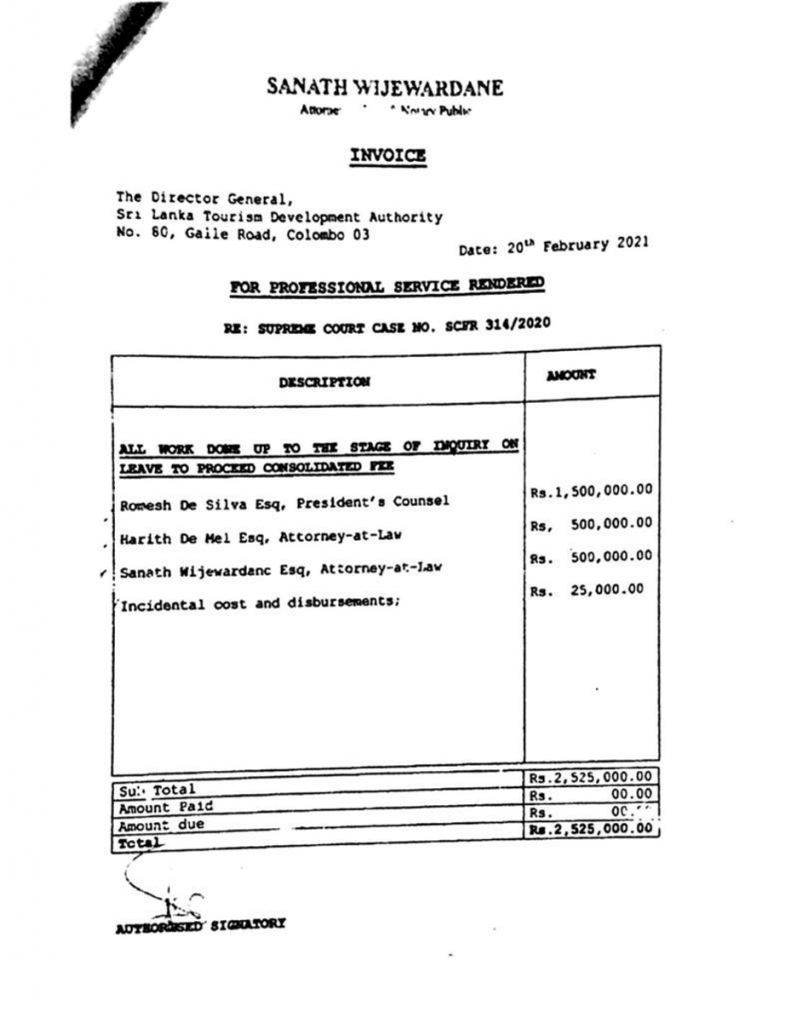 Following are the cheques issued by SLTDA 10 months later than the invoice date. These millions are paid with public money, not from Kimarli's own pocket. At a time when the entire tourism industry in Sri Lanka is at stake in the face of the Covid-19 pandemic, Kimarli, who seems to be thought that the SLTDA is just another legacy of her wealth, power, and family, may not see any wrongdoing here. However, the SLTDA, headed by her, has misused the public money beyond a reasonable doubt. It is a serious violation of not only the Establishments Code (ER), but also of the government's Monetary Regulations (MR).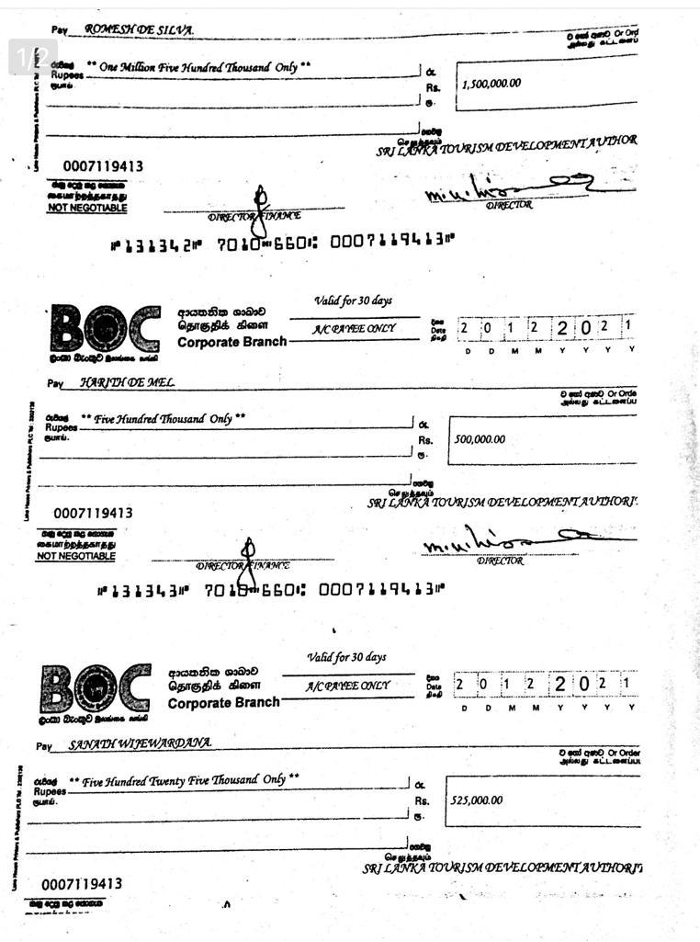 Kimarli and her board of directors are facing charges over contempt of court on disregarding the injunction obtained by Lanka Realty Leisure (Pvt) Ltd against SLTDA. According to the order issued on February 2, 2022, she has to appear before the District Court in person. As usual, the team was represented again, by PC Romesh de Silva and colleagues.
Meanwhile, the following is a letter sent by the Minister of Tourism regarding the official tenure of Kimali Fernando. According to it, her term of office has ended on 19.01.2022 and as far as we know this appointment has not been renewed. Accordingly, we have a reasonable doubt as to whether Kimali is conducting these things without any official authority.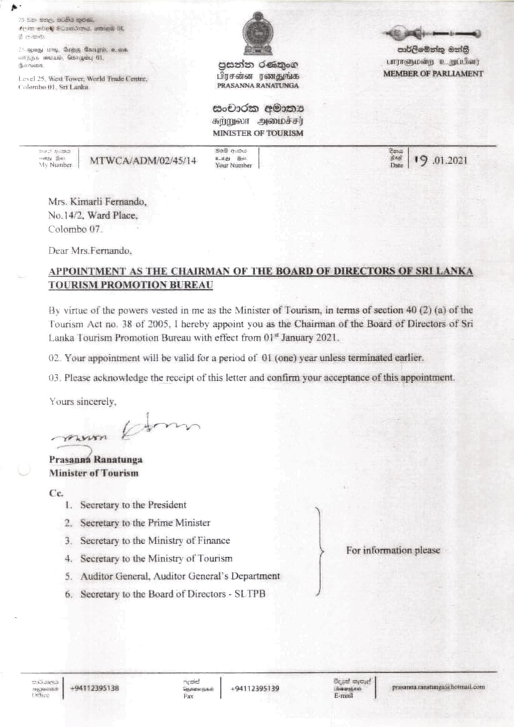 We do not wish to emphasize the number of fees paid to private lawyers by SLTDA. What we are pointing out is that Kimarli has no right to seek assistance from a private lawyer and pay the fees through public money. She is violating the Establishments Code as well as the Financial Regulations, putting the entire Board of Directors in trouble and pushing the apex body of Sri Lanka Tourism into a labyrinth of corruption.
CORRECTION
We have mentioned that Supreme Court Judge, PC Yasantha Kodagoda, represented SLTDA on behalf of the Attorney General's Department in the first edition of this article due to an error. We apologize for that error which has been fixed in this edition.
Related Articles