By: Staff Writer
Colombo (LNW): Between 19 and 24 September 2023, a proactive team of 16 entrepreneurs, affiliated with the Chamber of Young Lankan Entrepreneurs (COYLE), embarked on a pivotal trip to Jakarta, Indonesia.
Orchestrated by the Sri Lankan Embassy in Jakarta, their journey aimed at nurturing bilateral economic ties and scouting for collaborative ventures with Indonesian business magnates.
The group had the honor of touring the Permanent Trade Exhibition at Indonesia's Ministry of Trade on 21 September 2023.
This tour was complemented by in-depth B2B deliberations with a leading pharmaceutical company in Indonesia, hinting at prospective alliances.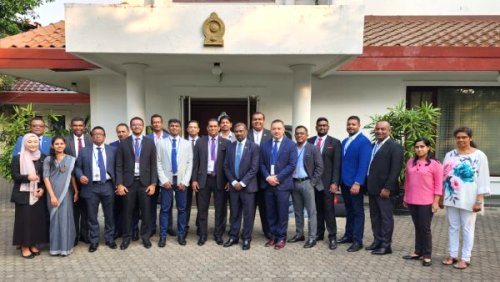 Meanwhile, on 22 September 2023, the Sri Lankan Embassy in Jakarta hosted a business conclave, which saw attendance from over 70 eager Indonesian business professionals. Representatives from influential associations like KADIN (Indonesia Chamber of Commerce and Industry), HIPMI (Indonesian Young Entrepreneurs Association), APINDO (Indonesian Entrepreneurs Association), and GAPMMI (Indonesian Food and Beverage Producers Association) were present.
During the conclave, Sri Lankan Ambassador to Indonesia and ASEAN Admiral Prof. Jayanath Colombage laid out vivid picture of the vast business prospects available in both nations.
The vast potential Indonesia offers, especially considering its expansive middle class and vast consumer market, consisting of approximately 229.9 million spenders, was explained by Colombage.
In turn, the COYLE delegation showcased a detailed portrayal of potential business ventures to their Indonesian peers. The initiative was met with overwhelming positivity from Indonesian business trailblazers, hinting at a promising path for collaborations.
This interactive event reaffirmed the promise of a prosperous economic partnership between the two nations.