Dr. Mahinda Pathirana, a theorist of the SLPP and also the Chairman of the Sri Lanka Press Council, says that the second language strategy suitable for Sri Lanka is the English system used by the Minister of Finance, Basil Rajapaksa.
The videos of Basil Rajapaksa's interview with the Daily Mirror have caused a great deal of controversy on social media and Mahinda Pathirana has expressed this view in this regard.
Following is the statement made by Mahinda Pathirana on his Facebook page.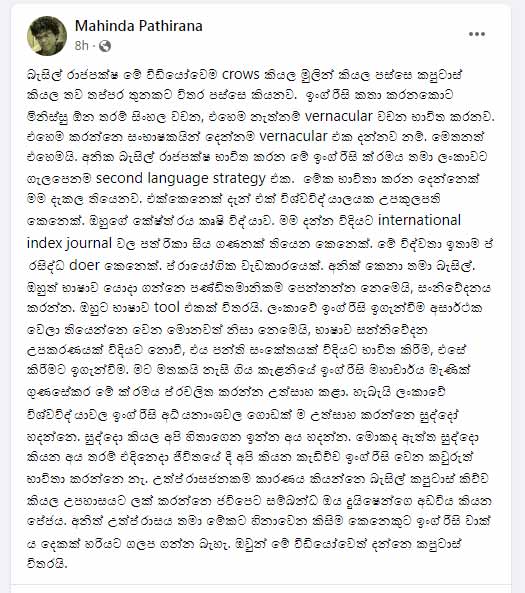 PS:
We do agree with Dr. Mahinda Pathirana. When we look at Basil Rajapaksa's recent speech in Parliament and his interview with the Daily Mirror, we also see that this is the most appropriate second language strategy for Sri Lanka.
We agree with Mahinda Pathirana's statement, especially in a situation where we have to find an 'Oxford dictionary or translator' to understand the English used by Opposition Leader Sajith Premadasa. Language should only be used as a means of communication.
However, another theoretician of the SLPP, Jagath Wellawatte, has faced injustice here. He lost his post as Sri Lanka's High Commissioner to Australia due to a similar video. He is currently the Ambassador to Italy. In fact, if Mahinda Pathirana had said the above statement earlier, Jagath Wellawatte would not have lost his post as High Commissioner to Australia.